Dolce & Gabbana, Gator Print, Extreme Pointed Toe Oxford -- Black
This page is to give you an idea as to the step process involved in transforming a shoe from its normal design to a Pointed Toe or Extreme Pointed Toe Design. Here you see the good, the bad, and the ugly and then the finished product. There is quite a bit of work involved in the process, but it makes for a fine hand produced finished product, that is High Fashion and unlike any others you will find. You will have people staring at your shoes and coming up to you asking where did you get those shoes.
Updated: 09/07/16
Dolce & Gabbana, Gator Print, Extreme Pointed Toe Oxford -- Black

Item# DGGATPTOEOXFBLK-0905 DU0418

SKU# 888

CJW Designer Serial#: CJWSHR-050

Price: $65.00

Size: 9 1/2D

Condition: Good

Status: Available
View Video Below of Redesign Process.
If unable to load in your browser, click link below.
Music: "If You Dont Know Me by Now" -- Harold Melvin and the Blue Notes
http://www.cjsshoes.com/Video/090716_6923_DG_SKU888.wmv
Before Photos
Tipes of shoes were worn down into the shoe leather, Damn!
Shoe heel, leather portion, worn down
In Progress Photos
Shoes with gold dye coloring removed, ugly. Toes reshaped to a more EXTREME Pointed Toe Design.
Leather added to toes as this part was worn off by previous owner.
Dying & Gluing Process
Leather portion on heel replaced with leather from old pair of Johnson & Murphy Shoes -- SCRAPPED -- SKU# 847 (Green -- Repurposing Process). I often use parts of old shoes for remaking and redesigning other shoes. Also extra leather tip added to toes as extreme pointed toe shoes wear down quickly at the toe as there is little surface area that touches the ground and thus more wear on a smaller area.
Initial Trying on of Shoes
Shoes immediately after being unclamped from gluing.
Shoes after before initial shoe polish applied and shined.
Completed Product
Completed Shoes Ready to be Modeled
D&G Logo sanded to make more of an appearance again.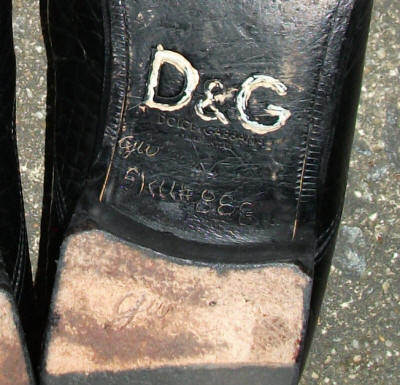 CSMSS - C. J.'s Shoes SKU# 888 Visible and "cjw" initials hand mark engraved onto shoe sole and shoe heel by -
C. J. White, Jr. -- Designer.
Completed Shoes Modeled
Before & After
This shoe maybe purchased by clicking on link below.